Robyn Tamanaha, LMFT
Licensed Marriage & Family Therapist #100631
Pronouns: she/her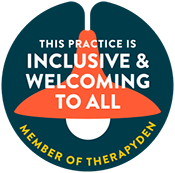 I work with individuals who are struggling with one or more of the following:
Bipolar Disorder (my specialty-

click here

to read more)
Depression (my specialty-

click here

to read more)
Anxiety
Trauma
Grief, Loss, Bereavement
Difficult Changes and Adjustments
I have had the pleasure of being a therapist for almost 10 years.  I've helped individuals and families acknowledge and identify the root of their pain, problem solve difficulties, move forward with strategies that allow them to tackle stress, and build meaningful relationships.
Clients who come to me are often sick and tired of their past experiences and/or mood holding them back from having a meaningful life. They are ready to start taking control of their struggles, instead of their struggles controlling them and dictating their life. I roll up my sleeves and get right in there with them.  I provide a safe, non-judgmental space for clients to explore their distress. Our sessions are also not in a vacuum: My clients have meaningful takeaways from sessions that can be realistically incorporated into their life.
The discoveries, observations, and strategies resonate with my clients, which help them to respond to their struggles, stressors, and emotions in new and effective ways that lead them to fully engage with the world and the people that they love, and to build the life that they want.
I offer a free 15 minute phone consultation,

 CLICK HERE

to find out more.
Let's start working together Get In Touch
Education:
Master of Science in Psychology from California State Polytechnic University, Pomona
Bachelor of Arts in Psychology from California State University, Monterey Bay
Professional Affiliations:
Asian American Psychological Association, Professional Member
Asian American Psychological Association, Division on LGBTQ Issues, Professional Member
California Association of Marriage & Family Therapists (CAMFT), Member
Orange County Chapter of the California Association of Marriage & Family Therapists (CAMFT), Member
Additional Trainings or Certifications:
Interpersonal and Social Rhythm Therapy (IPSRT) for Bipolar Disorder
Trauma Focused Cognitive Behavioral Therapy (TF-CBT)
Acceptance and Commitment Therapy (ACT) for Anxiety and Depression
Domestic Violence Crisis Line Advocate Training
Seeking Safety: Treatment for Post Traumatic Stress Disorder (PTSD) and Substance Abuse
Managing & Adapting Practice (MAP) for Anxiety, Depression, and Trauma
Did you know I have my own podcast?